Are you an event planner looking for efficient tools to streamline your planning process? In this fast-paced world, event planning has become increasingly complex. Thankfully, technology has evolved to offer various applications that simplify the entire process. These apps provide a range of features to manage different aspects of event planning, such as ticketing, registration, networking, and more. Let's dive into the top 10 apps that are leading the way in 2023.
What is an Event Management Software?
Event Management Software refers to a specialized technology solution designed to streamline and automate various tasks and processes involved in planning, organizing, and executing events. It provides event organizers with a centralized platform to manage event logistics, attendee registration, ticketing, marketing, communication, and other essential aspects.
Types of Event Management Software
Event management software comes in various types, each catering to specific needs and requirements of event organizers. Here are some common types of event management software:
Event Registration and Ticketing Software: This type of software focuses on attendee registration, ticket sales, and managing event admissions. It enables organizers to create customizable registration forms, handle payment processing, and issue electronic tickets.
Event Planning and Organization Software: These tools offer comprehensive features for planning and organizing events, including agenda management, speaker coordination, venue selection, resource allocation, and task management. They provide a centralized platform to streamline event logistics and collaboration among team members.
Event Marketing and Promotion Software: This category of software focuses on event marketing and promotion. It includes tools for email marketing, social media integration, online advertising, and tracking campaign performance. These solutions help attract a larger audience and boost event awareness.
Event Mobile Apps: Mobile apps specifically designed for events enhance attendee engagement and provide on-the-go access to event information. They typically offer features like event schedules, personalized agendas, interactive maps, attendee networking, and real-time updates.
Virtual and Hybrid Event Platforms: With the rise of virtual and hybrid events, specialized platforms have emerged to facilitate online event experiences. These platforms provide features for virtual event hosting, live streaming, attendee engagement, virtual exhibitor booths, and networking capabilities.
Event Analytics and Reporting Software: These tools focus on data analytics and reporting, offering insights into event performance, attendee feedback, and ROI. They provide metrics such as registration numbers, ticket sales, attendee demographics, engagement levels, and survey results.
Event Management Suites: Comprehensive event management suites combine multiple functionalities into a single platform. They offer a holistic approach to event planning and management, integrating features such as registration, planning, marketing, mobile apps, and analytics into one cohesive system.
Best Apps for Event Management
Eventbrite
Eventbrite is a popular event management platform that offers a user-friendly interface for event organizers and attendees. With Eventbrite, you can create customizable event pages, manage ticket sales, and promote your event through various marketing channels. It also provides tools for check-in management and post-event analytics.
Pros: User-friendly interface, customizable event pages, ticket sales management, post-event analytics.
Cons: Limited features for large-scale events, transaction fees for paid tickets.
Cvent
Cvent is an all-in-one event management solution that enables you to handle every aspect of your event. From online registration and email marketing to on-site check-ins and attendee engagement, Cvent covers it all. It also offers advanced features like event surveys and attendee feedback collection to help you gather valuable insights.
Pros: All-in-one event management solution, online registration, email marketing, attendee engagement.
Cons: Complex interface for beginners, higher pricing for advanced features.
Whova
Whova is a comprehensive event management app designed to enhance networking and attendee engagement. It offers features such as event scheduling, personalized agendas, in-app messaging, and virtual networking. Whova also includes interactive tools like live polling, Q&A sessions, and exhibitor directories to make your event more interactive and impactful.
Pros: Enhanced networking and attendee engagement, personalized agendas, in-app messaging, virtual networking.
Cons: Steeper learning curve, may require additional setup for certain features.
Attendeease
With Attendeease, you can deliver outstanding meeting experiences while maintaining your sanity. The platform offers tools to support in-person, online, and hybrid events all in one place. You can template and automate key workflows to simplify the management of multiple events. It also simplifies the planning and management of complex events across team members. Attendeease allows you to create fully branded meeting and event experiences, ensuring a cohesive and professional look.
Pros: Supports in-person, live, and hybrid events from one platform, easy-to-use session scheduler, flexibility to handle unique registration scenarios, multi-language and currency options, integration with Marketo, Salesforce, Hubspot, Slack, Google Analytics, and Slido.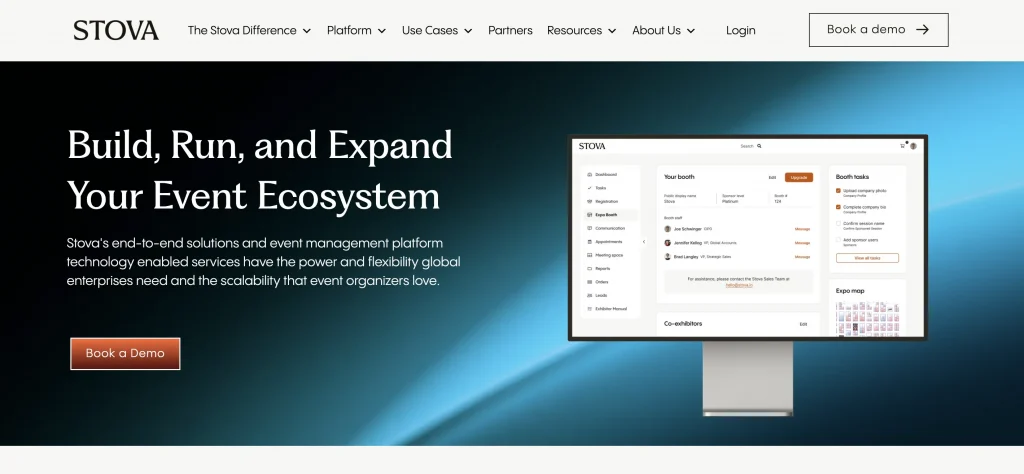 Stova
Stova is a new combination of MeetingPlay + Aventri + eventcore. Stova is an event management platform that aims to simplify the process of hosting virtual events. It offers a range of features and tools to help event organizers create engaging and interactive virtual experiences. With Stova, you can host webinars, conferences, workshops, and other types of virtual events.
Pros: User-friendly interface for easy event setup and management, integration with popular webinar and video conferencing platforms, customizable event pages to reflect your brand, interactive features such as chat rooms, Q&A sessions, and polling.
Cons: Relatively new platform, so fewer user reviews and testimonials are available.
Eventzilla
Eventzilla is a simple yet powerful event management platform suitable for both small and large events. It enables you to create event websites, manage registrations, and sell tickets online. Eventzilla also provides options for discount codes, group registrations, and secure payment processing, making it a versatile choice for event planners.
Pros: Simple and powerful event management, event websites, online registrations, secure payment processing.
Cons: Limited customization options, may not offer extensive marketing integrations.
Bizzabo
Bizzabo is an intuitive event management software that combines ticketing, event website creation, and attendee engagement features. It offers various customization options, including branding, agenda creation, and ticket types. Bizzabo also integrates with popular CRM and marketing automation platforms to help you maximize your event's impact.
Pros: Intuitive event management software, ticketing, event website creation, attendee engagement.
Cons: Higher pricing plans for advanced features, limited ticketing customization options.
HeySummit
HeySummit is a specialized platform for hosting virtual summits and conferences. It allows you to create engaging online events with features like live streaming, multiple sessions, and attendee networking. HeySummit offers integration with popular webinar tools and email marketing platforms, making it an ideal choice for virtual event organizers.
Pros: Specialized for virtual summits, live streaming, multiple sessions, attendee networking.
Cons: Primarily focused on virtual events, may lack certain features for in-person events.
ClickUp
ClickUp is a comprehensive project management and collaboration platform that can also be utilized for event planning and management. While it is not specifically designed as an event management tool, its versatility and robust features make it a viable option for organizing and executing events.
Pros: Powerful project management capabilities for organizing tasks, timelines, and resources, multiple views, including lists, boards, and calendars, to adapt to different planning preferences, collaborative features
Cons: Can be overwhelming for users new to project management software, event-specific features may not be as robust or tailored as dedicated event planning tools
How to Choose and What Should I Look For in Event Management Software?
Choosing the right event management software is crucial to ensure a smooth and successful event planning process. Here are some key factors to consider when selecting event management software:
Identify Your Event Needs: Determine your specific event requirements, such as attendee registration, ticketing, agenda management, marketing, on-site logistics, or virtual event capabilities. Having a clear understanding of your needs will help you choose software that aligns with your goals.
User-Friendly Interface: Look for software with an intuitive and user-friendly interface. It should be easy to navigate and require minimal training for you and your team members to start using it effectively.
Scalability: Consider the scalability of the software. If you anticipate your events growing in size or complexity, choose a solution that can accommodate future needs and can handle a larger volume of attendees and data.
Integration Capabilities: Ensure that the software integrates with other tools and platforms you use, such as email marketing software, CRM systems, payment gateways, or project management tools. Seamless integration enhances efficiency and reduces manual data entry.
Customization Options: Look for software that allows customization to reflect your brand identity and event-specific requirements. Customizable features, templates, and branding options enable you to create a personalized event experience.
Event Marketing and Promotion: Consider the software's capabilities for event marketing and promotion. Look for features like email marketing, social media integration, website integration, and analytics to track the effectiveness of your promotional campaigns.
Mobile Accessibility: In today's mobile-driven world, having mobile accessibility is essential. Check if the software offers a mobile app or a mobile-responsive interface to enable on-the-go access and real-time updates.
Support and Training: Evaluate the level of support and training provided by the software provider. Look for resources such as documentation, tutorials, customer support channels, and training materials to ensure you can make the most of the software's features.
Pricing and Budget: Consider your budget and the pricing model of the software. Determine whether it offers a one-time payment, subscription-based model, or tiered pricing based on features or event size. Ensure that the software's cost aligns with the value it provides for your events.
Reviews and Recommendations: Research user reviews, testimonials, and case studies to gain insights into other event organizers' experiences with the software. Their feedback can provide valuable information and help you make an informed decision.
By considering these factors, you can choose event management software that meets your specific needs, streamlines your event planning process, enhances attendee experiences, and contributes to the overall success of your events.
Conclusion
In conclusion, event planning apps have revolutionized the way events are organized, offering numerous benefits for event planners and attendees alike. Whether you need assistance with ticketing, registration, networking, or venue layout, these top 10 apps for event planning in 2023 have got you covered. Embrace the power of technology and leverage these tools to deliver exceptional events that leave a lasting impression on your attendees.
FAQ
Are these event planning apps compatible with both iOS and Android?
Yes, all the mentioned apps are available for both iOS and Android platforms, ensuring compatibility across a wide range of devices.
Can I use these apps for virtual events?
Certainly! Many of these apps offer features specifically designed for virtual events, making them well-suited for online conferences, webinars, and virtual summits.
Do these apps integrate with other software systems?
Yes, most of these event planning apps provide integrations with popular CRM, marketing automation, and ticketing platforms, allowing you to streamline your workflows and enhance your event management capabilities.
Are these apps suitable for small-scale events as well?
Absolutely! These apps cater to events of all sizes, ranging from small meetups to large-scale conferences. They offer scalable solutions to meet the unique requirements of each event.