Calendar applications have become essential to our daily routines, vital in maintaining order and staying on track. Whether managing personal affairs or organizing professional endeavors, a wide array of choices are available for iOS and Android users. From simple and straightforward options to feature-rich alternatives, these apps offer numerous advantages that facilitate efficient schedule management.
If you're searching for a new calendar app to enhance your organizational skills, you'll find many alternatives to choose from. Regardless of whether you own an iPhone or an Android device, there are applications tailored to meet your specific requirements and preferences. This article will explore 14 exceptional calendar apps for iOS and Android systems, highlighting their unique features and advantages.
What is Calendar Management?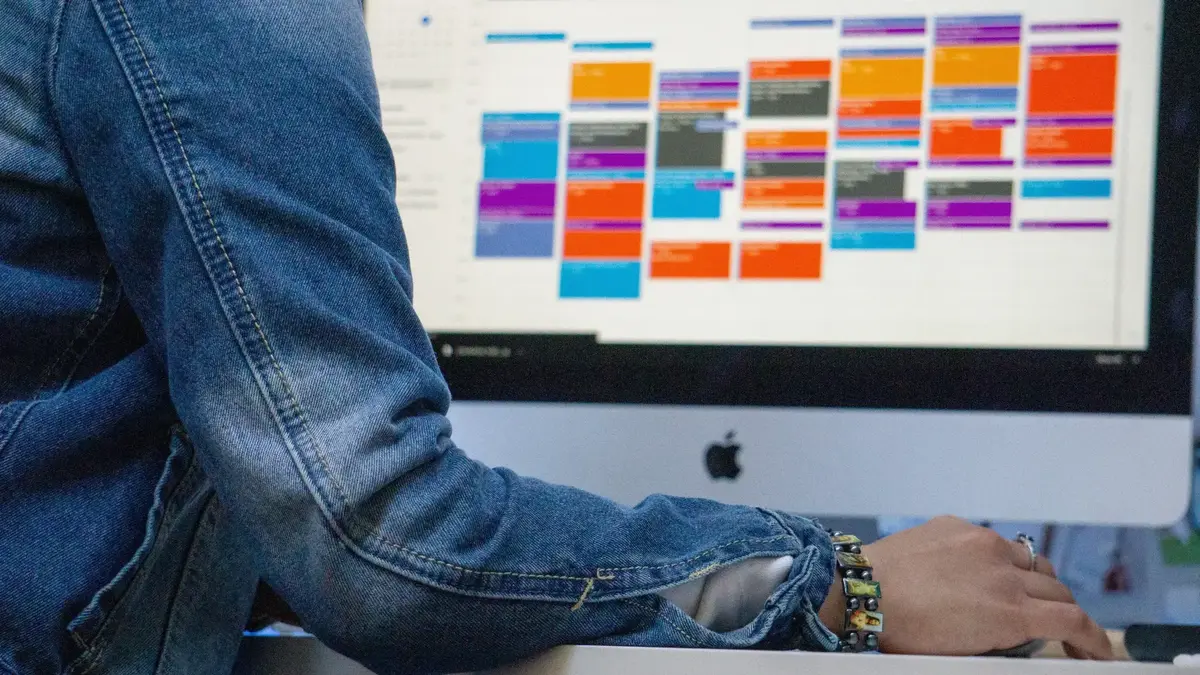 Calendar management is the process of organizing and managing schedules, appointments, and events using digital or paper calendars. It involves creating, editing, and sharing events, setting reminders and notifications, and keeping track of tasks and deadlines. Effective calendar management is essential for individuals and organizations to maximize productivity, avoid conflicts, and save time.
Calendar management tools have evolved significantly in recent years, with the advent of digital calendars and mobile devices. Calendar apps for Android and iOS systems have become increasingly popular, providing users with various features to help them organize their schedules and stay on top of their tasks.
Some of the best calendar apps for Mac and Windows include Timetree Calendar, Microsoft Outlook Calendar, and Apple Calendar. These calendaring programs offer a range of features, including the ability to schedule external appointments, share calendars with others, and sync with other devices.
When looking at calendar time management, choosing a calendar app that meets your specific needs and preferences is important. For example, if you're looking for a work calendar app, you might want to consider a tool that integrates with your email and other productivity template. If you're looking for a free calendar app for personal use, you might want to choose a tool that offers a more intuitive and user-friendly interface.
A productive schedule is key to effective time management; the right calendar app can help you achieve this. Some of the best calendar apps for iPhone and iPad include Fantastical, Google Calendar, and Calendars by Readdle. These apps offer a range of features, including natural language input, intelligent scheduling, and customizable views.
How to Use a Calendar?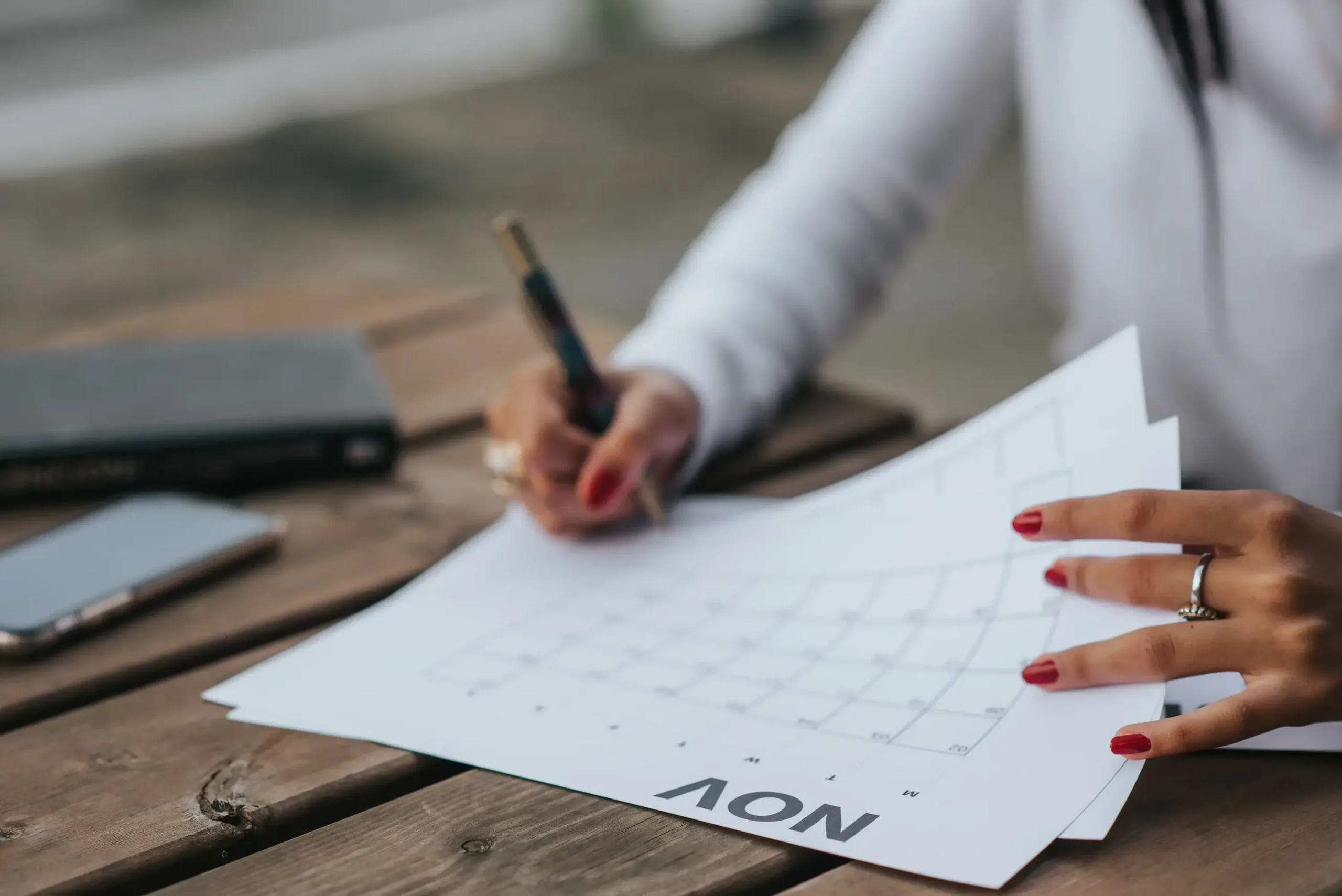 Calendars are an essential tool for organizing schedules and managing time. With the advent of calendar apps for Android and iOS, calendar management has become easier than ever. Here are a few tips on how to use a calendar to maximize productivity and stay on top of your schedule.
Choose the Right Calendar App
With so many calendaring programs available, choosing the best calendar app for your needs is important. Some of the best calendar apps for iPhone and Android include Google Calendar, TimeTree Calendar, and Fantastical. For Mac users, the Mac Calendar widget is a popular choice.
Input All Appointments and Deadlines
The key to effective calendar management is to input all appointments and deadlines into your calendar. This includes work appointments, personal appointments, deadlines, and reminders. By inputting everything into your calendar, you can get a clear picture of your schedule and avoid overbooking yourself.
You can readily recognize various events by color-coding your calendar. Use red for business engagements, blue for personal appointments, and green for deadlines. It may be simpler to rapidly glance at your calendar and comprehend your timetable as a result.
You may avoid forgetting deadlines or essential appointments by setting reminders. You can set reminders for particular events in most calendar applications for iOS and Android. Reminders can be sent to you in the hours, minutes, or even days before an event.
Sharing your calendar with others can help coordinate schedules. For example, if you're trying to schedule a meeting with coworkers, you can share your work calendar with them to find a time that works for everyone. Most productivity tools allow you to share your calendar with others via email or a scheduling link.
Best Calendar for iOS
The choices abound when it comes to finding the best calendar for iphone. Prepare to be astounded by this carefully curated collection of seven remarkable apps, each bearing unique features and capabilities that will elevate your organizational game to unprecedented heights. Explore the following exquisite offerings:
Fantastical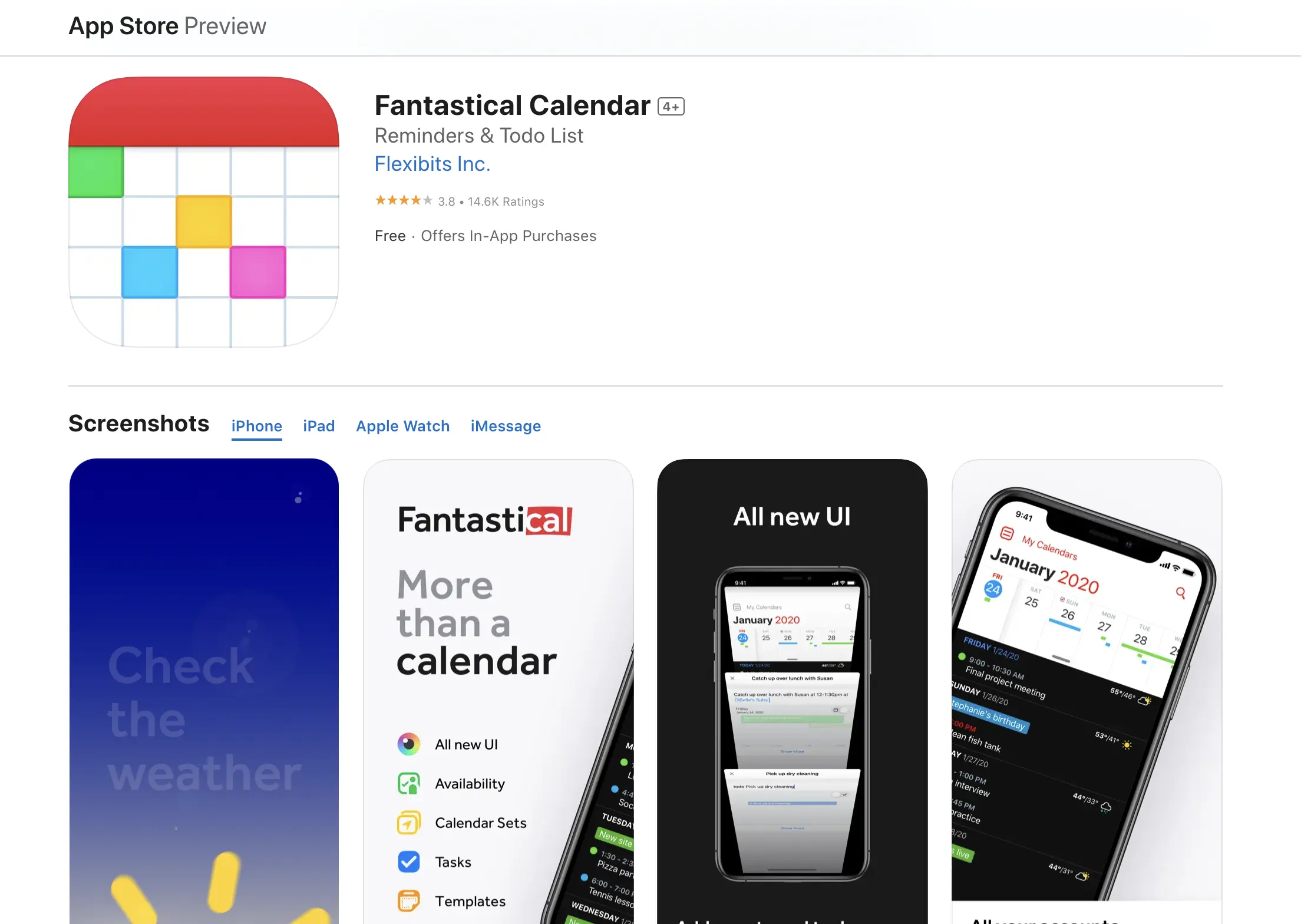 Prepare to be captivated by Fantastical, an exquisite masterpiece embraced by iOS enthusiasts far and wide. This meticulously designed app presents your events with unrivaled clarity in captivating daily, weekly, and monthly calendar views.
Notably, Fantastical boasts a cutting-edge natural language parsing feature, allowing you to effortlessly input events conversationally, a truly revolutionary approach to event creation.
Google Calendar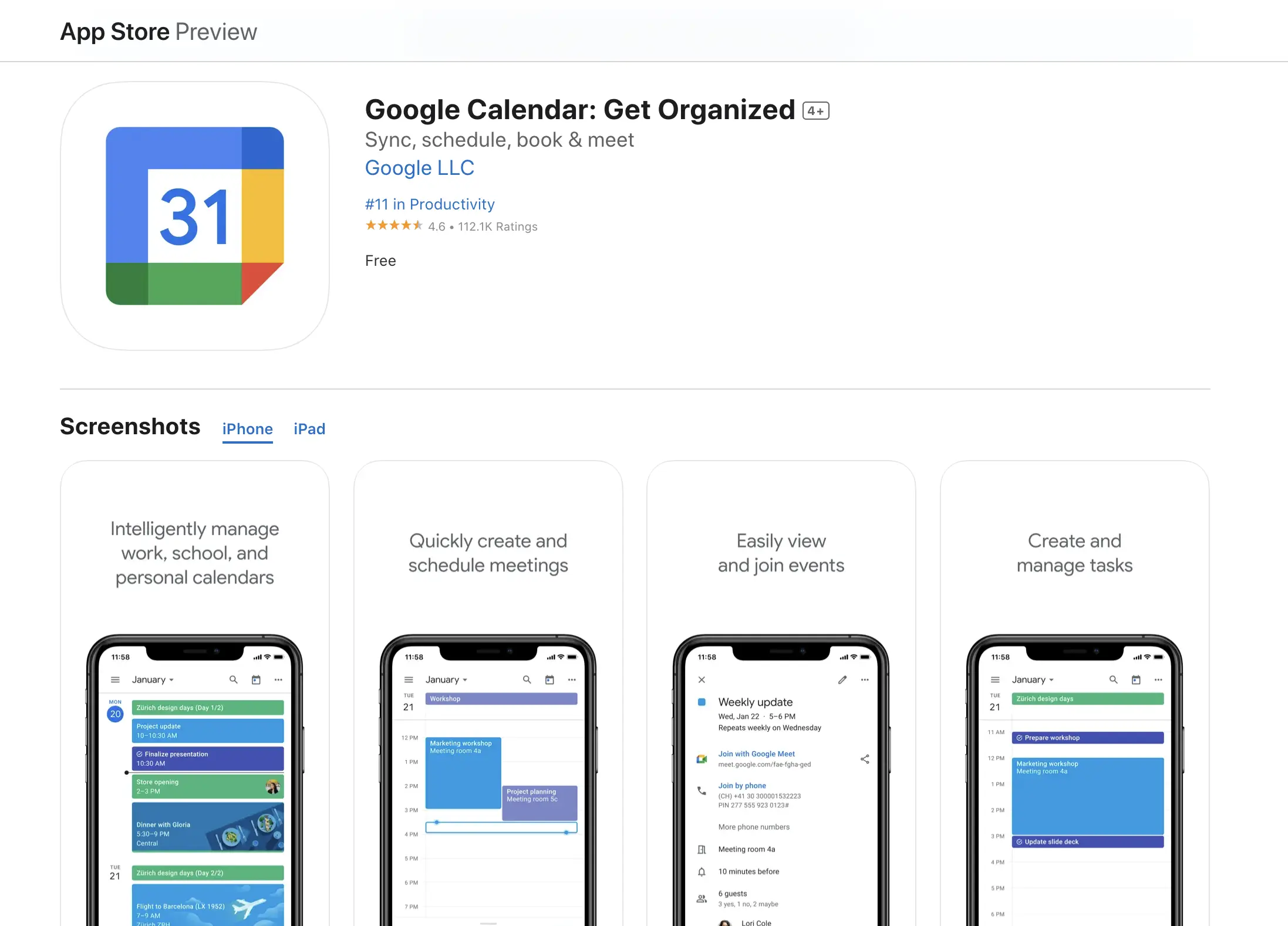 Step into a realm of unparalleled productivity with Google Calendar, a virtuoso of synchronization and integration tailored for those entrenched in the Google ecosystem.
Seamlessly merging with the likes of Gmail and other Google apps, this app orchestrates a symphony of productivity, offering a harmonious blend of reminders, multiple calendar creation, and a user-friendly interface, all contributing to an unrivaled scheduling experience.
Calendars by Readdle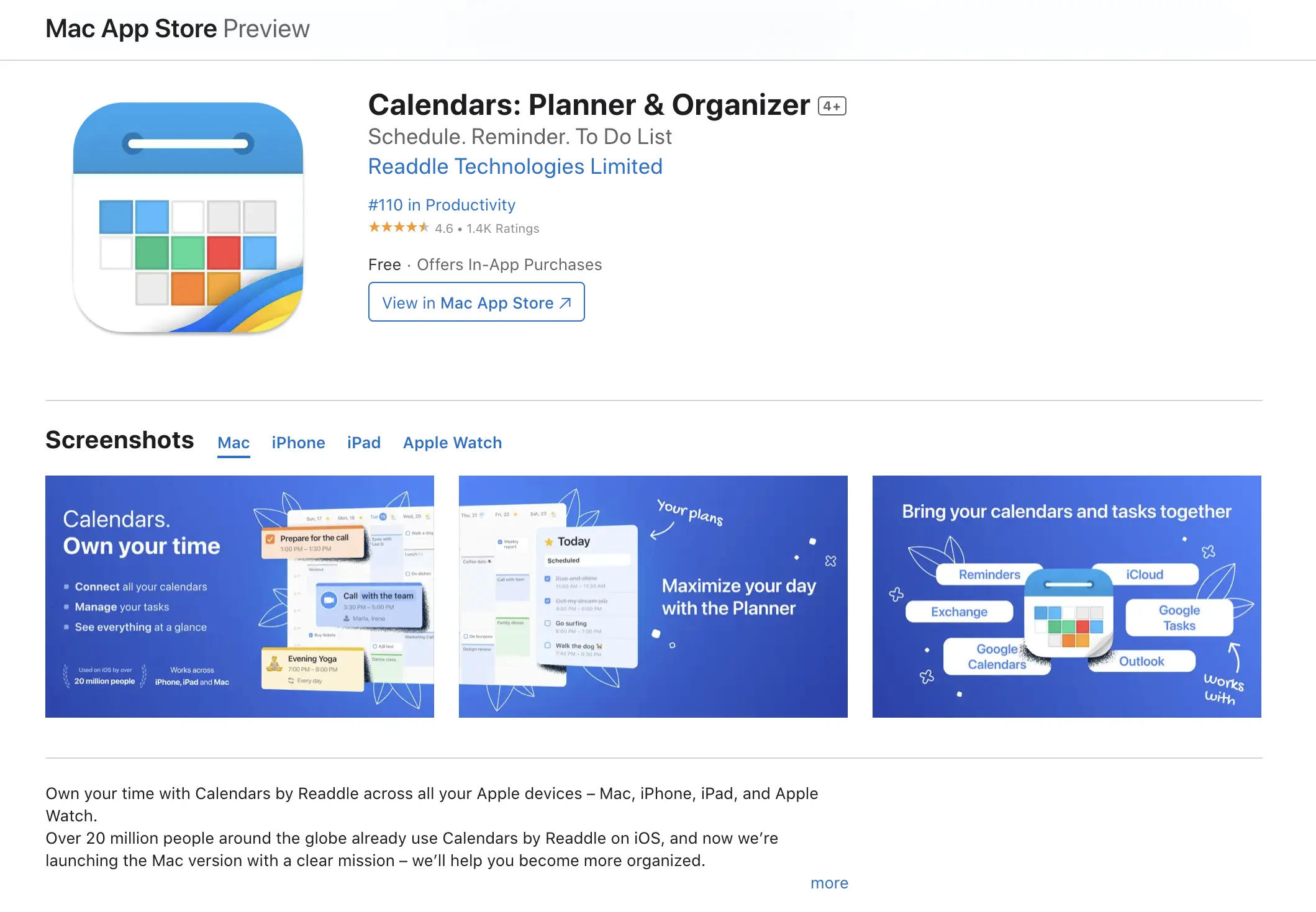 Journey into the realm of Calendars by Readdle, an oasis of simplicity where intuitive design flourishes. This remarkable creation combines a minimalist interface with an effortless natural language input system, ensuring that scheduling your life's endeavors is an art form rather than a chore.
Embrace the convenience of organizing calendar by day, week, or month while seamlessly syncing with Google Calendar and various other services. As an added bonus, indulge in the seamless integration of a task manager, empowering you to conquer your to-do lists with utmost efficiency.
Outlook Calendar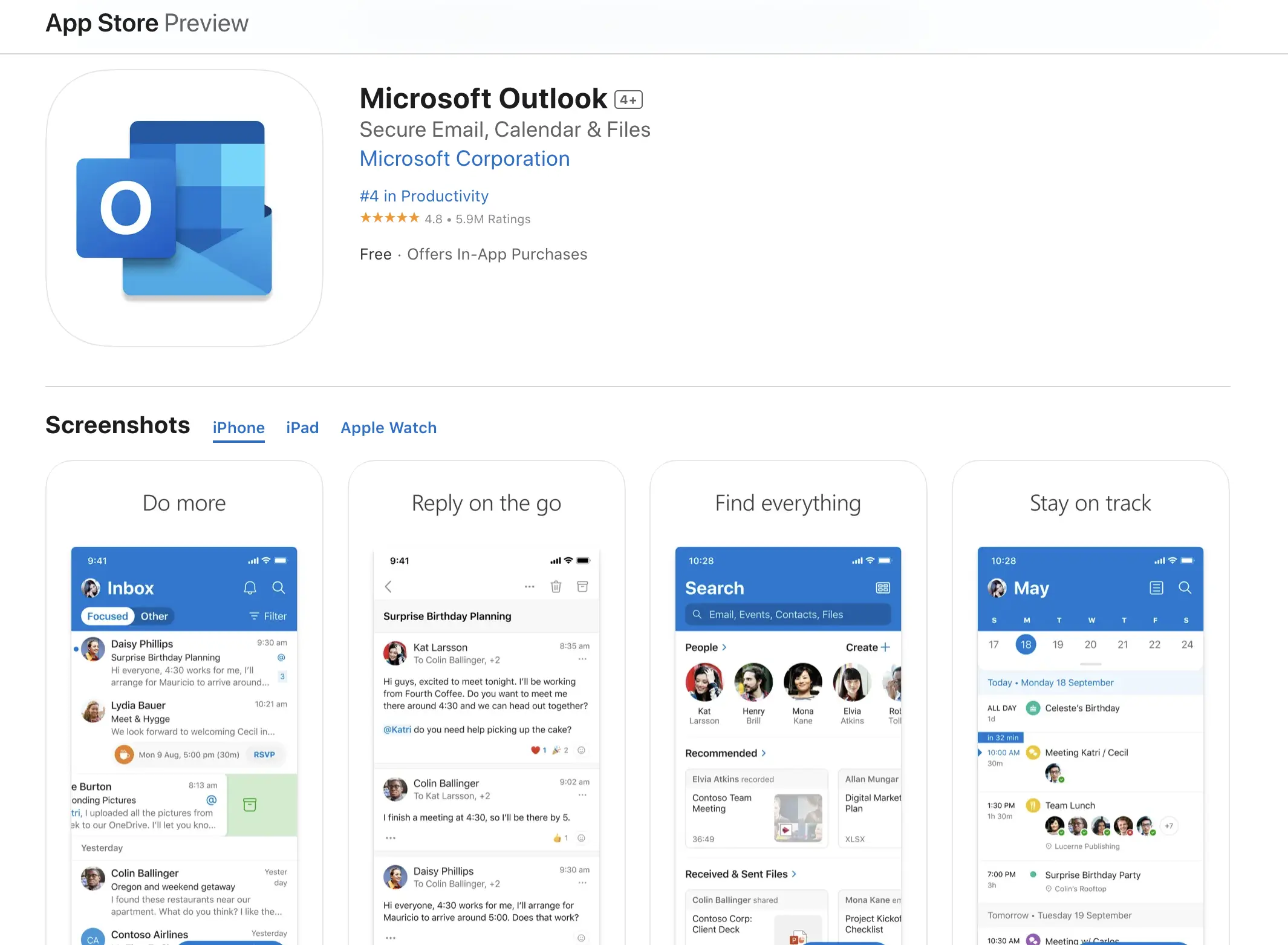 Embark on a harmonious journey through time with Outlook Calendar, a captivating melody of synchronicity designed for aficionados of Microsoft services.
Integrating flawlessly with Outlook email and other esteemed Microsoft apps, this app harmonizes many features, including reminders, multi-calendar viewing, and the remarkable ability to add attachments to events. Elevate your scheduling prowess with this awe-inspiring symphony of productivity.
Apple Calendar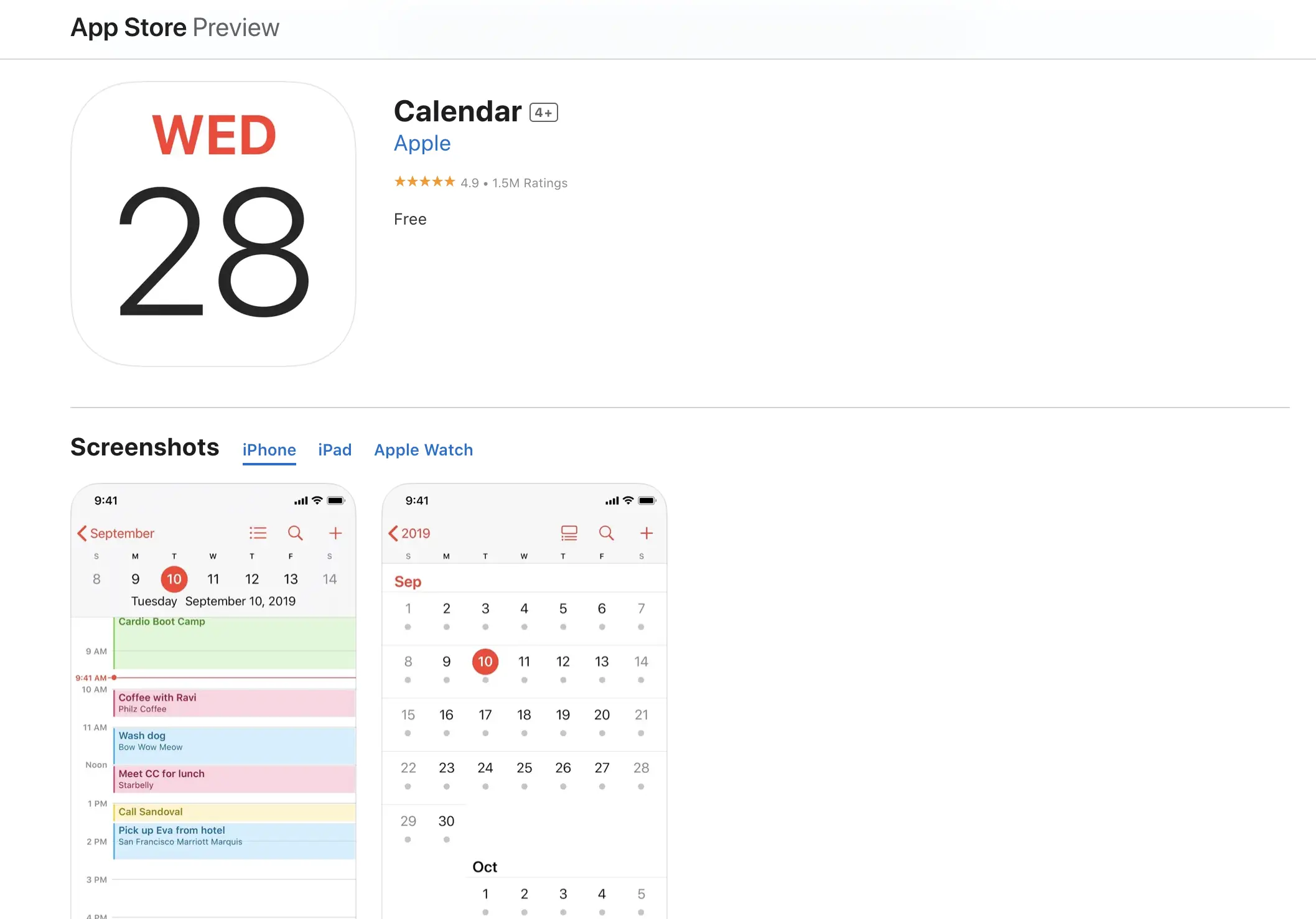 Embrace the reliability of Apple's very own Calendar app, a beacon of stability and efficiency meticulously crafted for iOS devotees. Featuring an intuitive interface, Apple Calendar offers seamless navigation through your life's daily, weekly, or monthly landscapes.
Revel in the convenience of natural language input while basking in the seamless integration with Apple's illustrious ecosystem, including iCloud and the beloved Siri assistant.
Calendars 5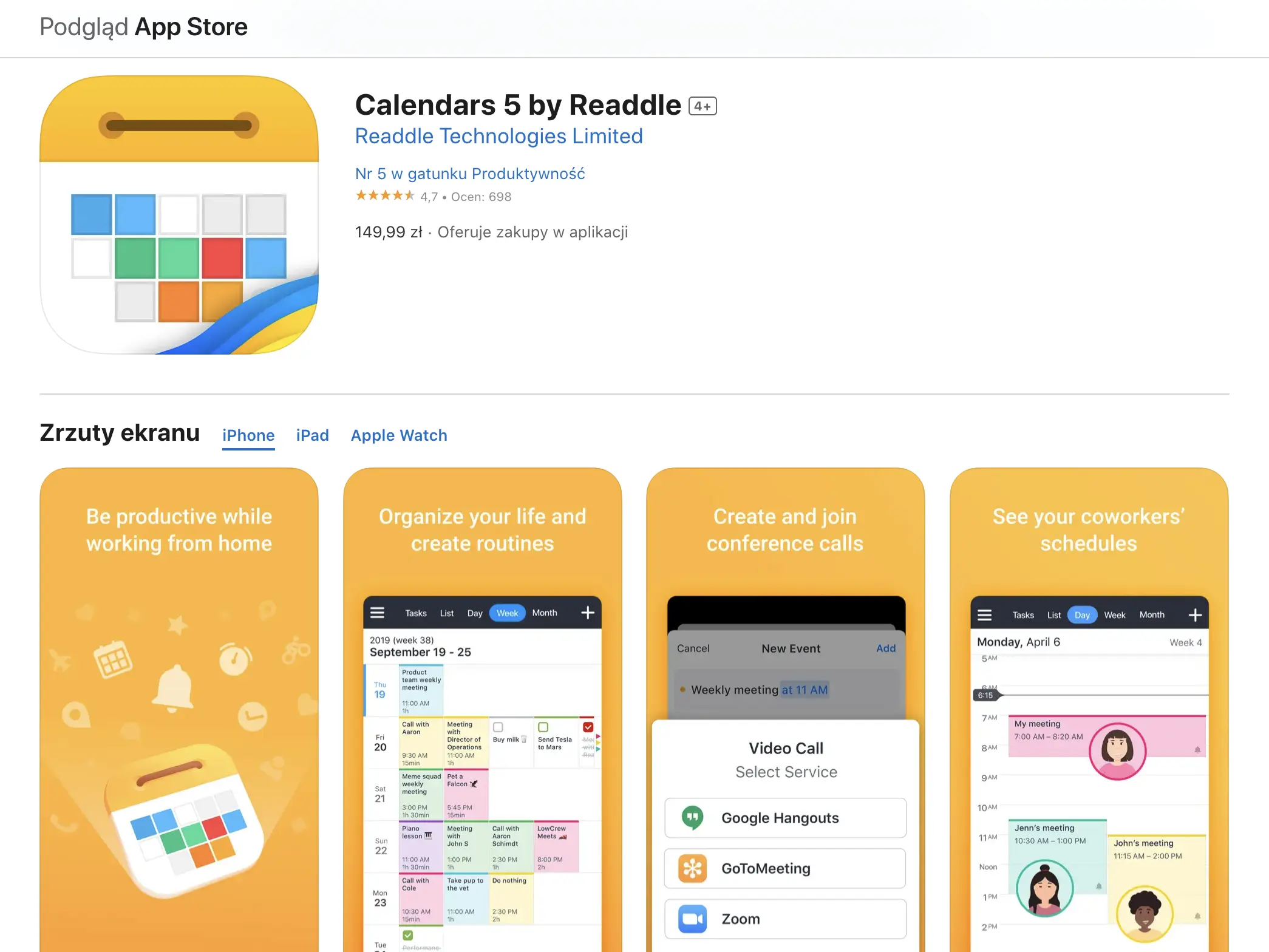 Enter the realm of Calendars 5, a masterpiece that epitomizes elegance and personalization. Immerse yourself in its sleek and customizable interface, tailored to cater to the discerning tastes of iOS connoisseurs. Effortlessly manage your calendar by day, week, or month while luxuriating in the convenience of natural language input.
Embrace the power of a built-in task manager, empowering you to conquer your responsibilities with unparalleled efficiency. Synchronize effortlessly with Google Calendar and various other services, securing your place at the pinnacle of productivity.
Week Calendar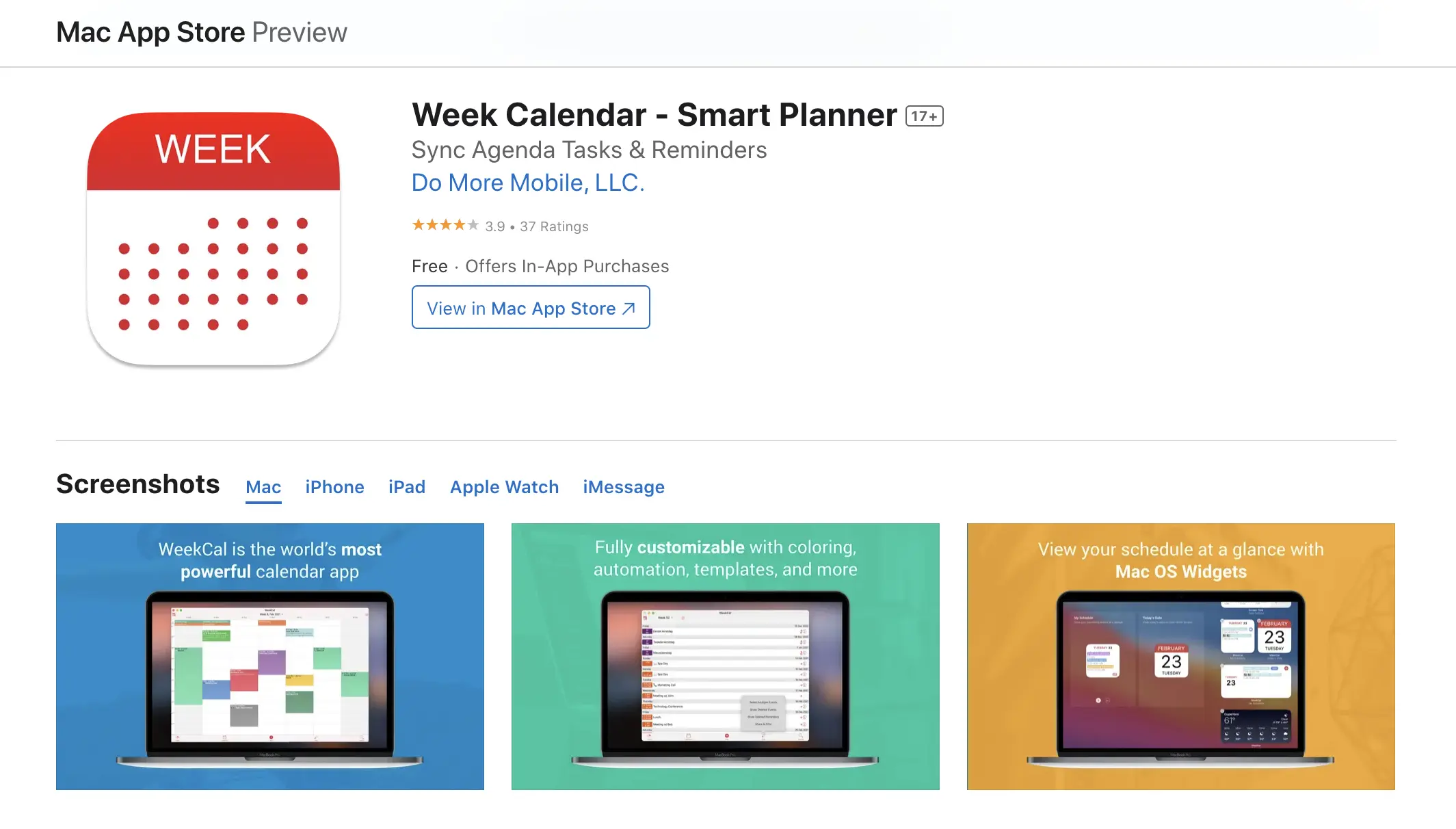 Prepare to be enthralled by Week Calendar, a force to be reckoned with, effortlessly fusing customization and mastery. Revel in the immense freedom to customize your calendar's appearance, and color-coding events with utmost precision.
Traverse the landscapes of time by effortlessly navigating between day, week, or month views, all within a refined interface that exudes elegance. Accompanied by a formidable task manager and seamless synchronization with Google Calendar and other esteemed services, Week Calendar ensures that your organizational journey knows no bounds.
Best Calendar for Android
When it comes to managing your schedule, having the right calendar app can make all the difference. Android users have a wide range of options to choose from, but which one is the best? Here are seven of the top calendar apps for Android in 2023:
TimeTree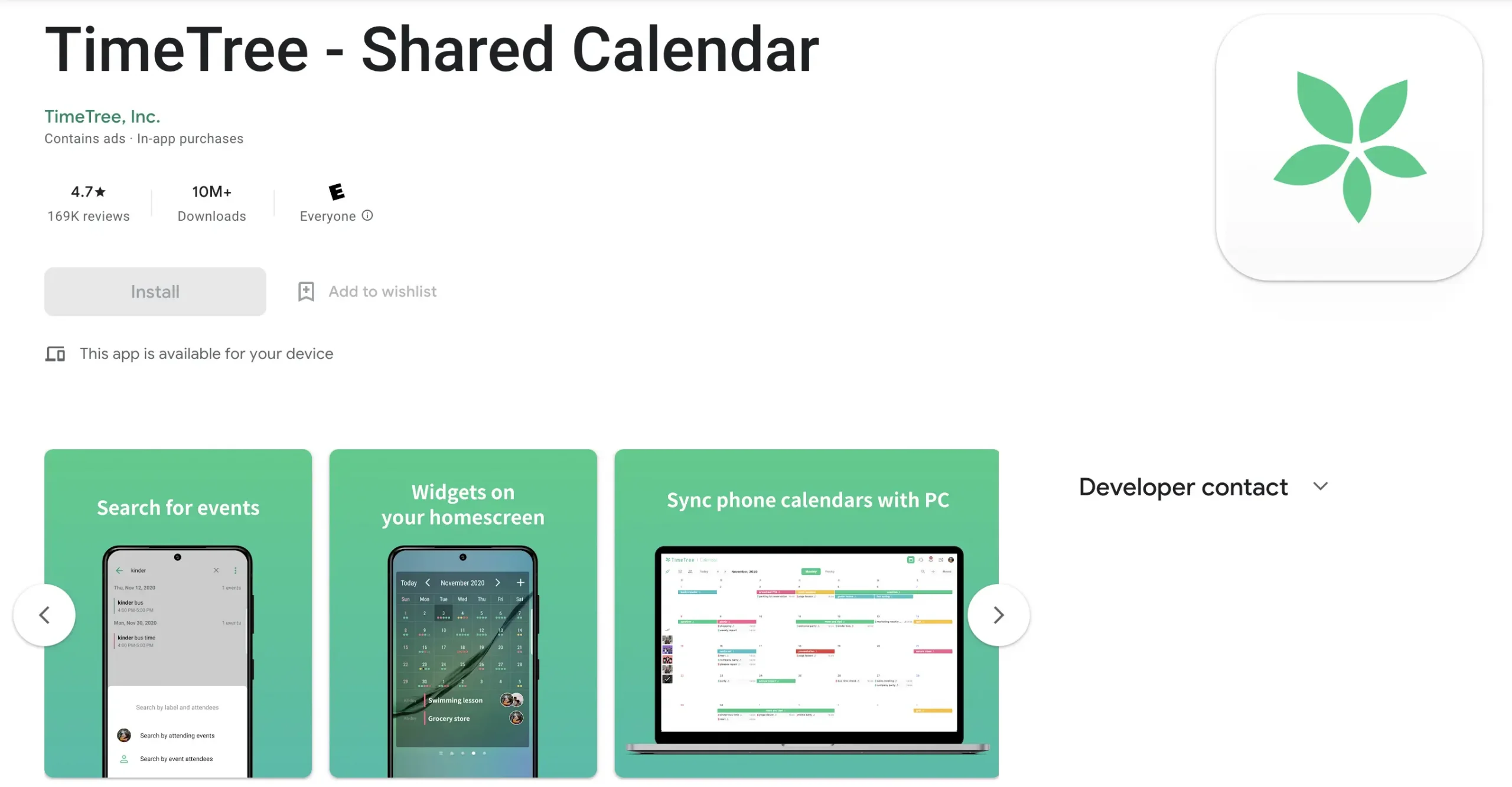 TimeTree is an exceptional choice for individuals seeking a collaborative calendar experience. This app facilitates seamless sharing of schedules with family, friends, or colleagues, making it ideal for coordinating events.
It goes beyond traditional scheduling by incorporating a chat feature, enabling users to communicate directly within the app. With TimeTree, you can effortlessly plan family vacations or easily organize work meetings.
Business Calendar 2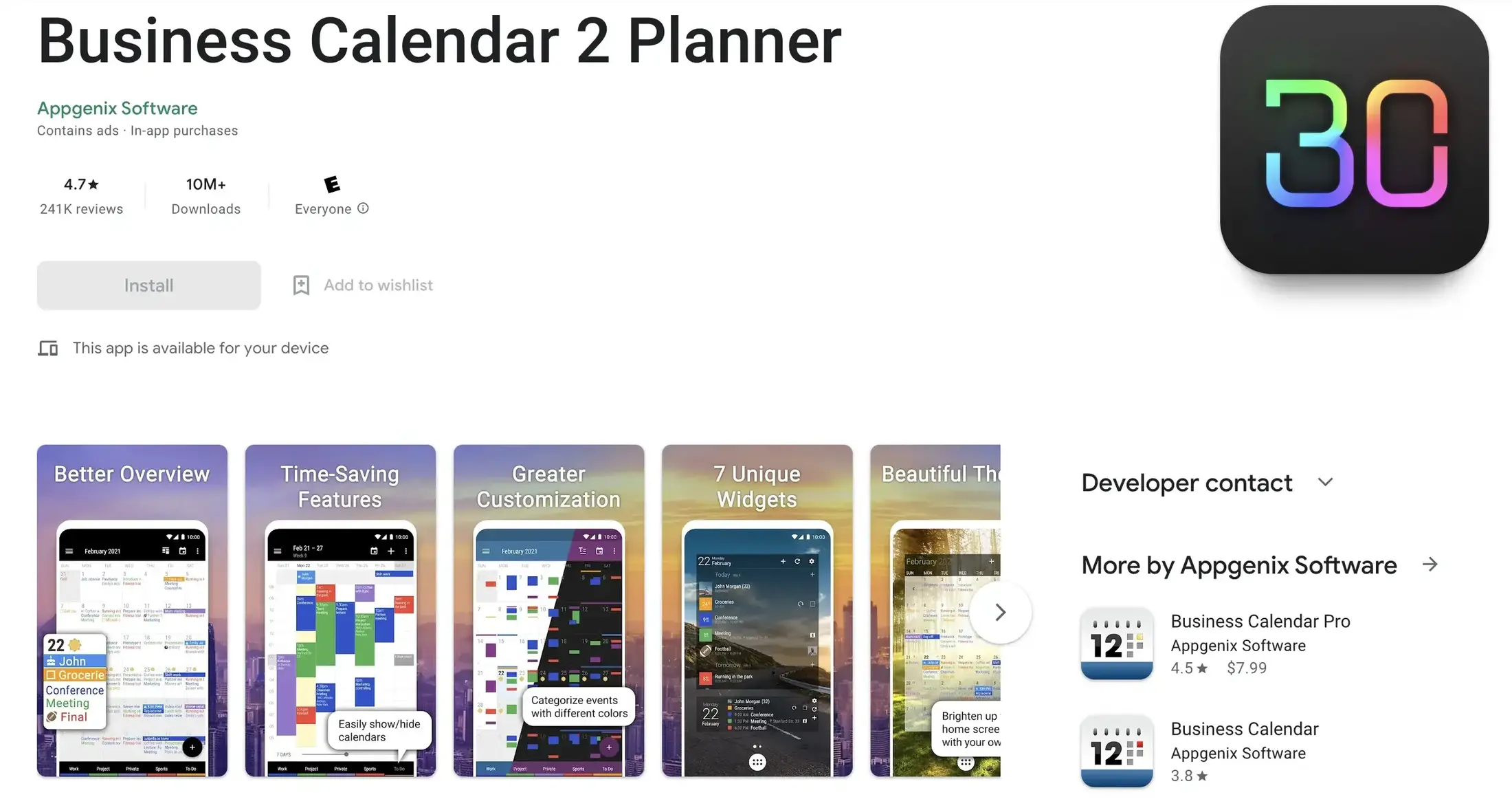 Designed specifically for professionals, Business Calendar 2 offers comprehensive features to enhance productivity. Its advanced functionalities include customizable views, event templates, and the ability to sync with multiple calendars.
Additionally, this app integrates a built-in task manager, allowing users to manage their to-do lists alongside their schedules efficiently. Business Calendar 2 is a valuable asset for individuals seeking a versatile tool for work-related organization.
DigiCal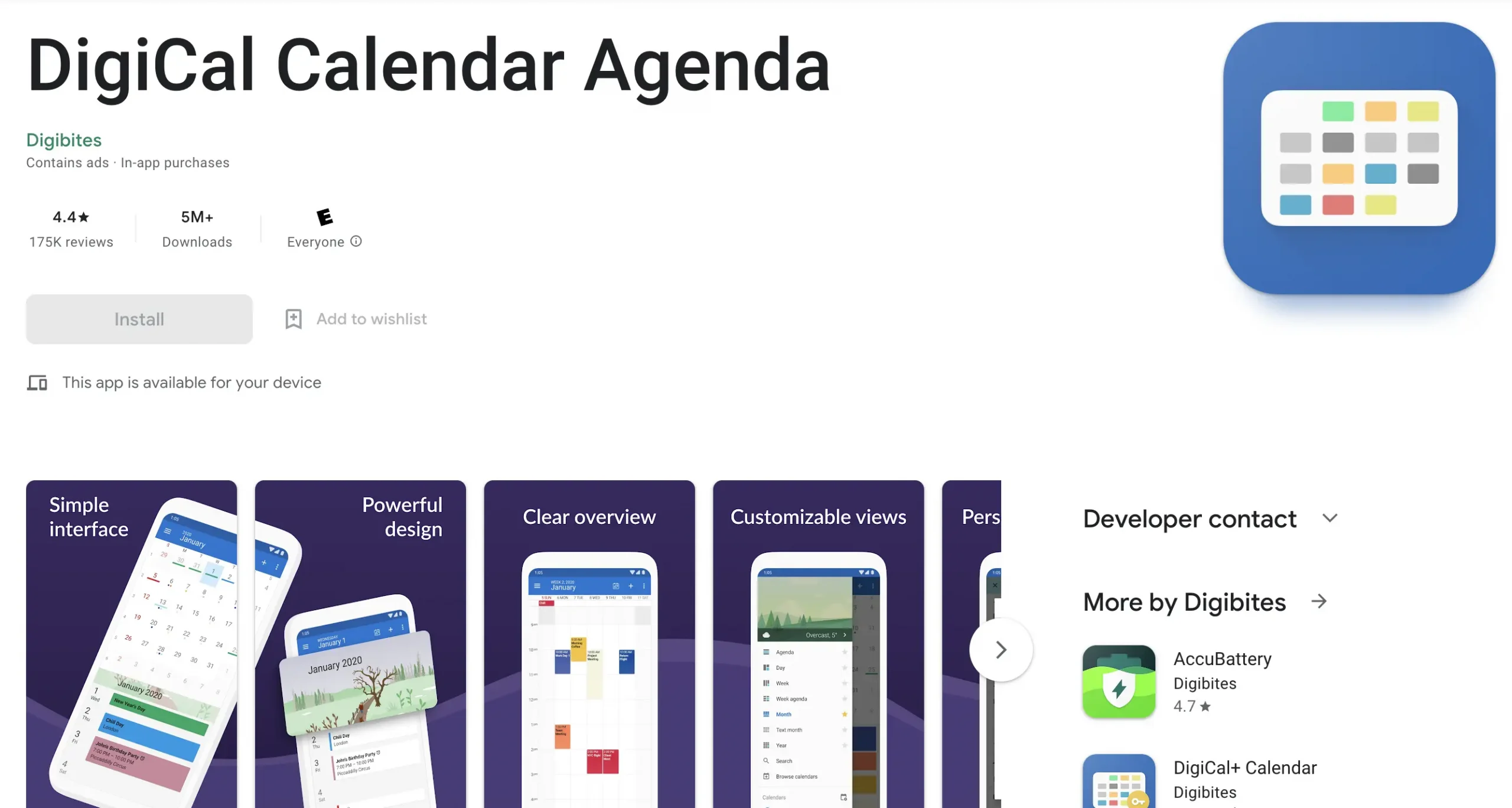 If customization is your priority, DigiCal is an outstanding choice. This highly adaptable calendar app offers diverse themes and widgets to personalize your scheduling experience. Moreover, DigiCal incorporates a weather forecast feature, enabling users to view their location's weather alongside their daily agenda.
With seamless synchronization capabilities across Google Calendar, Outlook, and other popular apps, DigiCal ensures a smooth transition between your various scheduling platforms.
aCalendar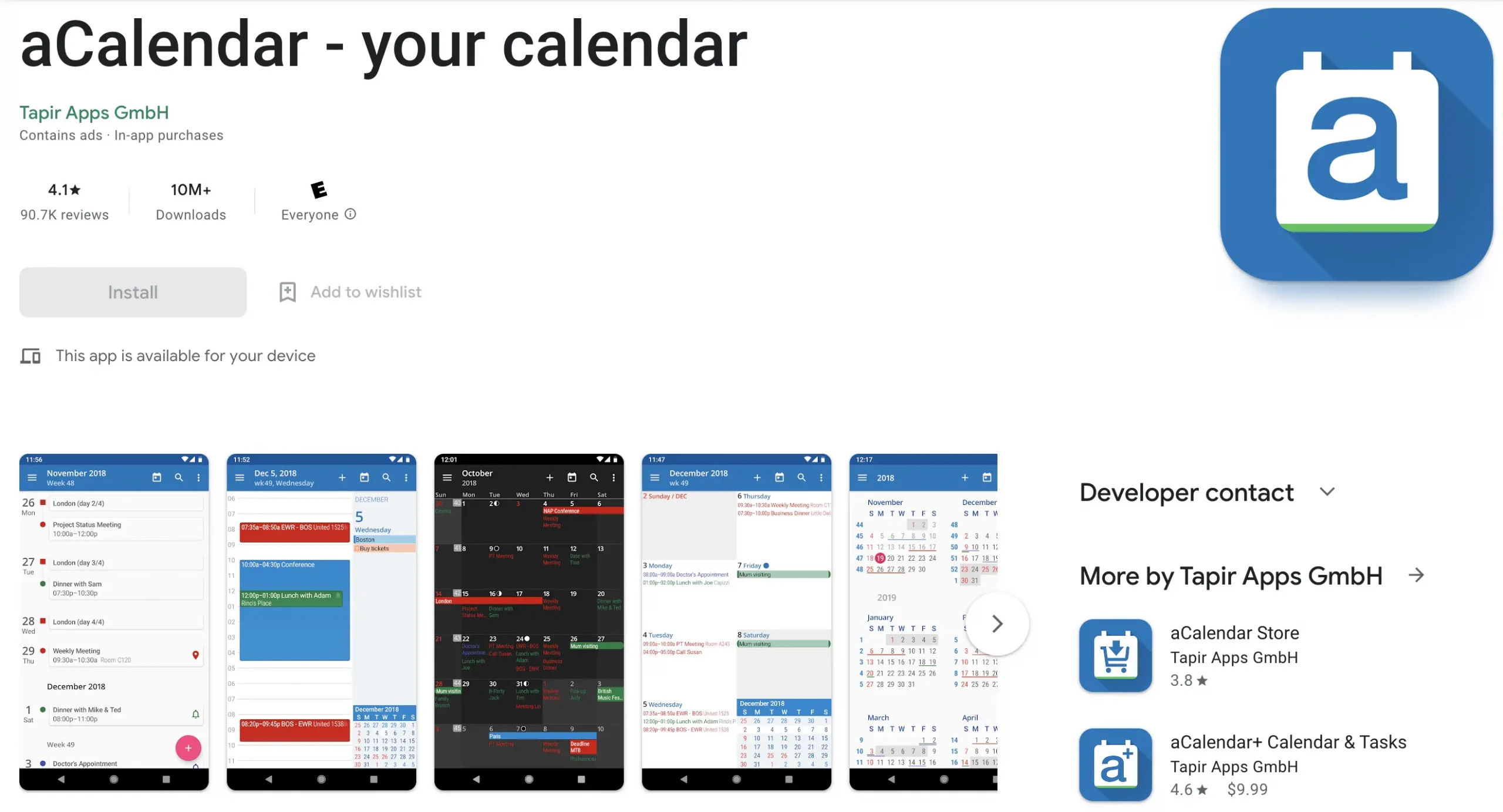 Simplicity and user-friendliness define aCalendar, making it an excellent option for those who prefer a straightforward calendar app. With its minimalist interface and extensive customization options, aCalendar offers a clean and intuitive scheduling experience. Notably, the "event series" feature streamlines the scheduling of recurring events, allowing users to plan regular appointments or activities effortlessly.
CalenGoo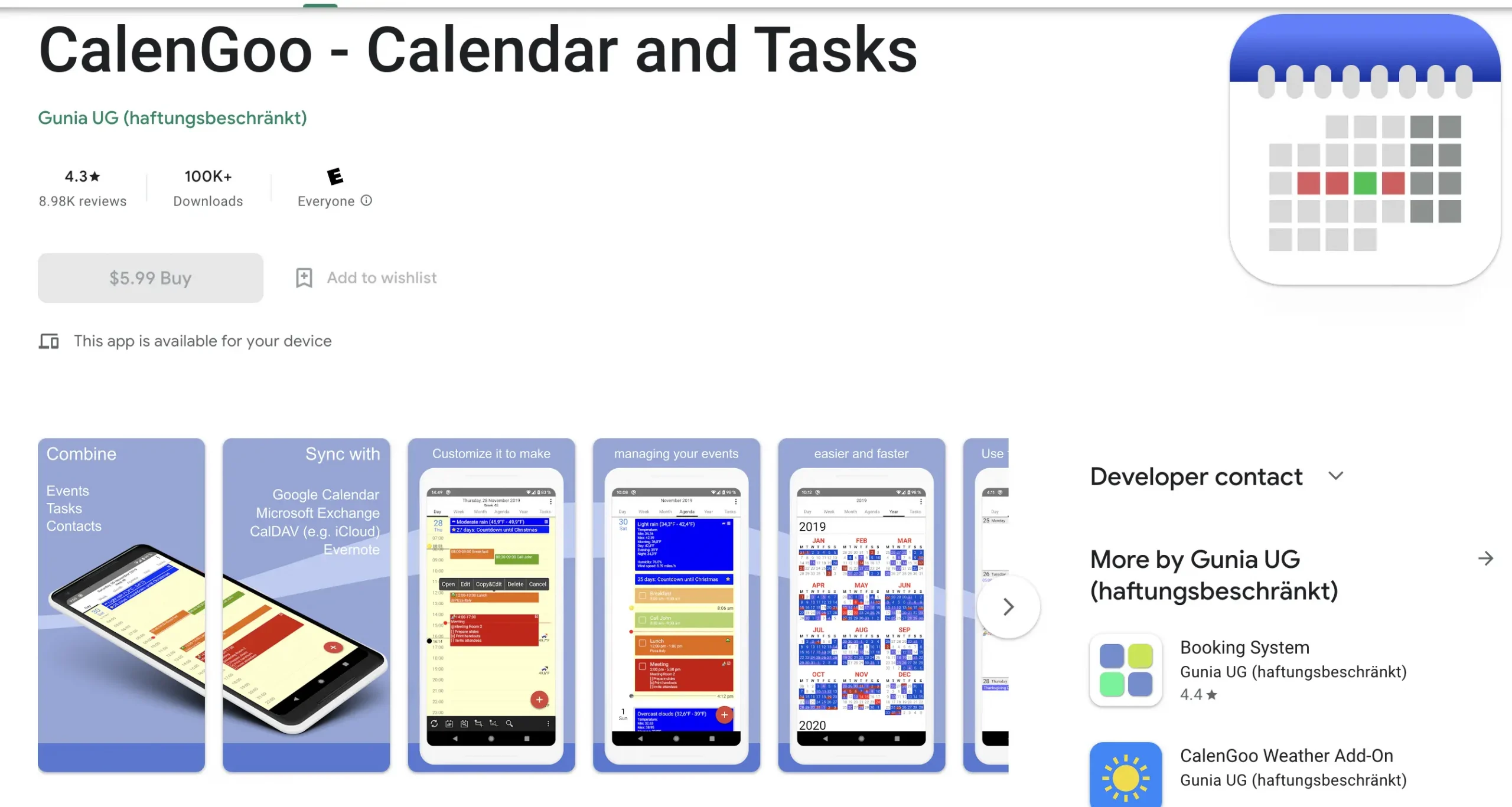 For power users seeking an all-in-one calendar app, CalenGoo is an indispensable tool. Boasting an array of advanced features, including customizable views, task management capabilities, and support for multiple calendar syncing, CalenGoo caters to users with diverse scheduling needs. The app's built-in search function enables efficient event retrieval, ensuring seamless navigation through your busy schedule.
Jorte Calendar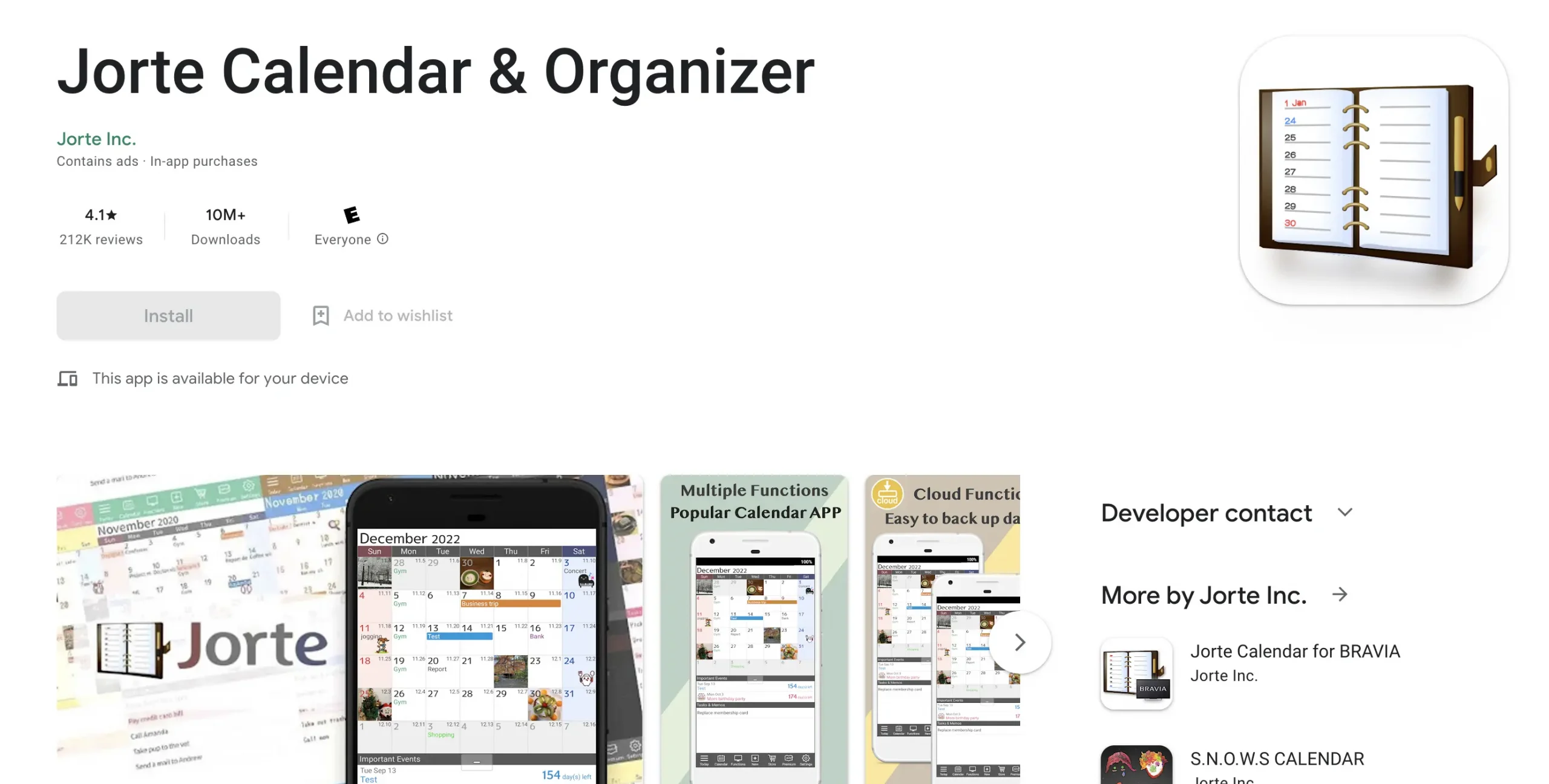 Jorte Calendar stands out with its stylish design and extensive customization options. Users can personalize their calendars with various themes, widgets, and colors to create a visually pleasing scheduling experience. Jorte Calendar offers many features, including multiple calendar views, task management, and integration with popular calendar services like Google Calendar and Microsoft Exchange.
Users can easily organize their events, tasks, and appointments with a user-friendly interface. Additionally, Jorte Calendar provides a daily horoscope feature, weather forecast, and even a diary function, making it a versatile app for Android users who want more than just a traditional calendar.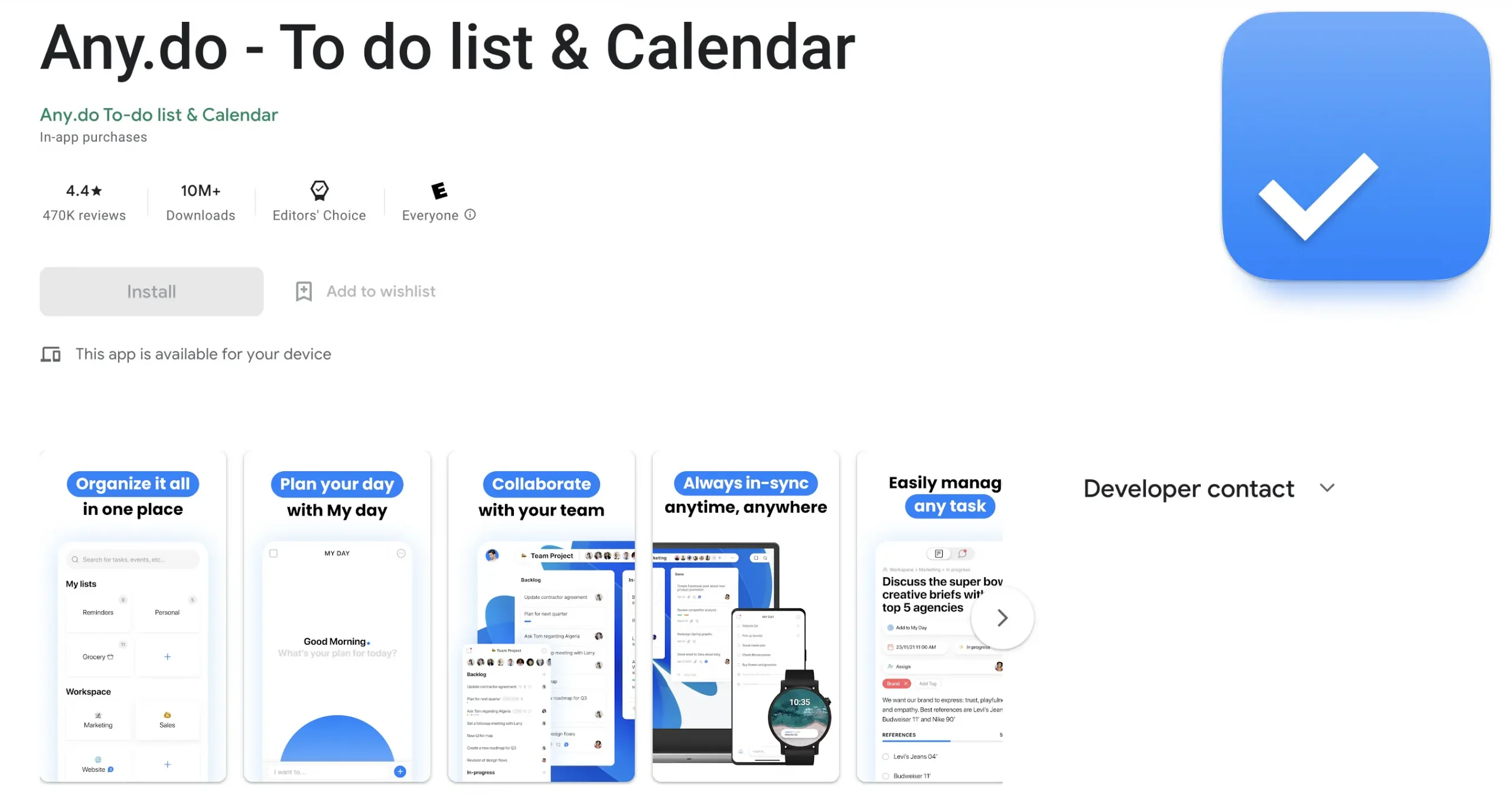 While primarily known as a task management app, Any.do also offers a robust calendar feature, making it an excellent choice for individuals who value seamless integration between tasks and schedules. With Any.do, you can easily create, manage, and prioritize tasks while efficiently organizing your calendar events. The app provides a clean and intuitive interface, allowing users to switch between tasks and events effortlessly.
Any.do sync seamlessly with Google Calendar and other calendar apps, ensuring your schedule is always up to date across all devices. Additionally, Any.do offers features like reminders, location-based notifications, and the ability to share tasks and events with others, making it a comprehensive productivity tool for Android users.
Conclusion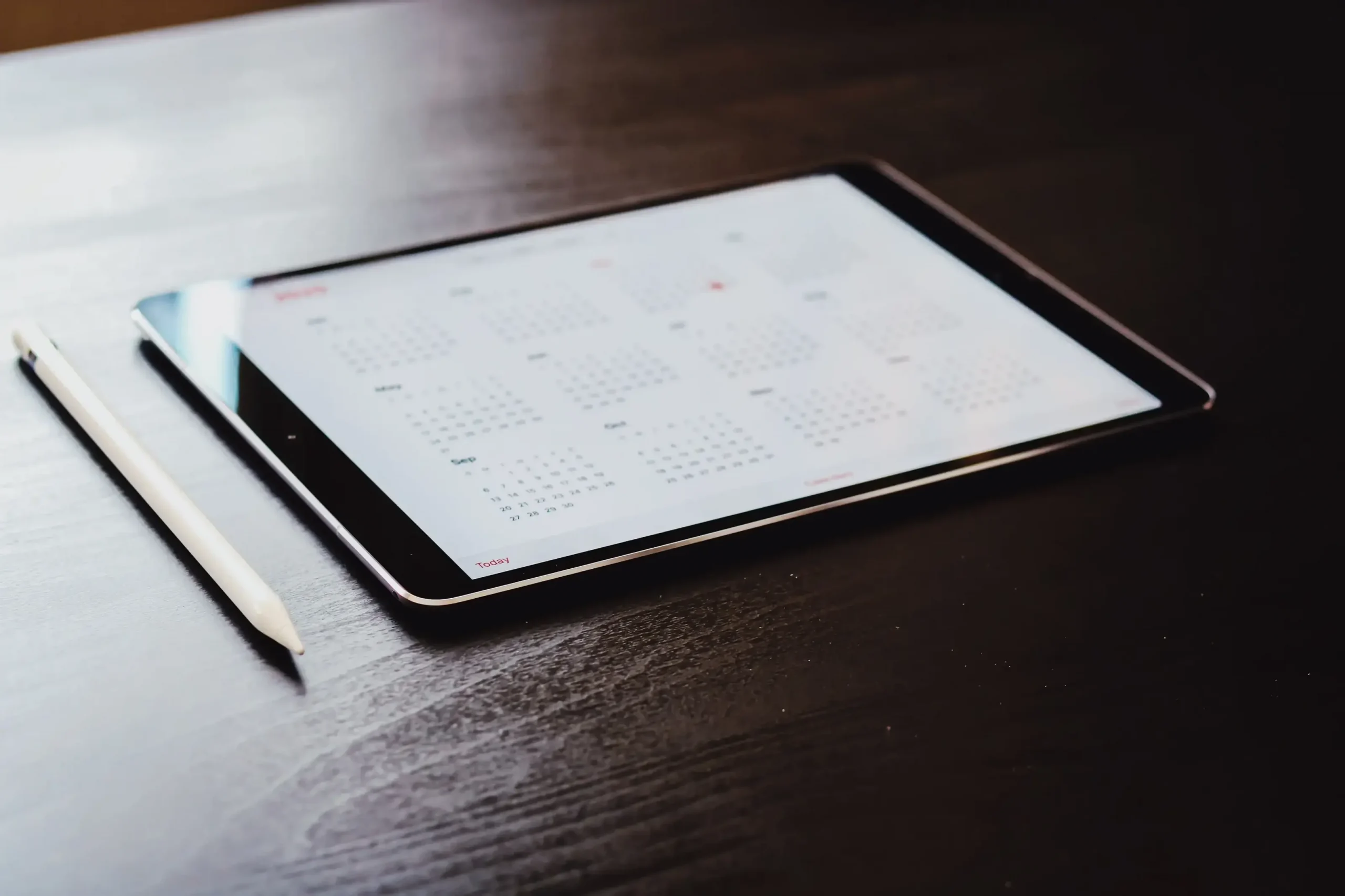 Selecting the right calendar app for one's needs can significantly improve productivity and time management skills. With the many options available in the market, it can be overwhelming to select the best one. However, by assessing one's requirements, such as organizing schedule, productivity schedule, and calendar management tools, one can narrow down the choices.
Some of the best calendar apps for iOS and Android systems in 2023 include Calendar.com, Fantastical, and Google Calendar. These apps offer features such as multi-platform support, smart scheduling links, and a clean presentation of events in daily, weekly, and monthly calendar views.
Furthermore, some apps specialize in particular areas, such as TimeTree, which is ideal for work calendar apps and collaborative scheduling. Additionally, Mac users can opt for the Mac Calendar Widget, which offers a seamless experience with the operating system.
FAQ
What are the benefits of using a calendar app?
The key benefit of using a calendar app is the ability to manage time more effectively. Organizing your schedule and setting reminders ensures you never miss a necessary appointment or deadline. Additionally, many calendar apps offer features such as task lists, notes, and event invitations, making it easy to collaborate with others and stay on top of your commitments.
Are there different types of calendar apps available?
Yes, a variety of apps are available for iOS and Android devices that offer different features and benefits. Some of the most popular include Google Calendar, Fantastical, Outlook, and Apple Calendar.
What features do calendar apps typically offer?
The features offered by calendar apps vary depending on the app, but most offer the ability to manage your schedule and set reminders. Many apps also offer task lists, notes, and event invitations, allowing users to collaborate and stay on top of commitments.
Is it easy to collaborate with others using a calendar app?
Many calendar apps make it easy to collaborate with others by offering features such as task lists, notes, and event invitations. This can help ensure that multiple users are aware of important tasks and deadlines, as well as make it easier to coordinate schedules.

Are there any calendar apps available that are specifically designed for professional use?
Yes, several calendar apps are specifically designed for professional use. Examples of these include Microsoft Office 365, Asana, and Trello. These apps offer task tracking, team collaboration, and meeting scheduling features, making them ideal for managing busy schedules and team projects.